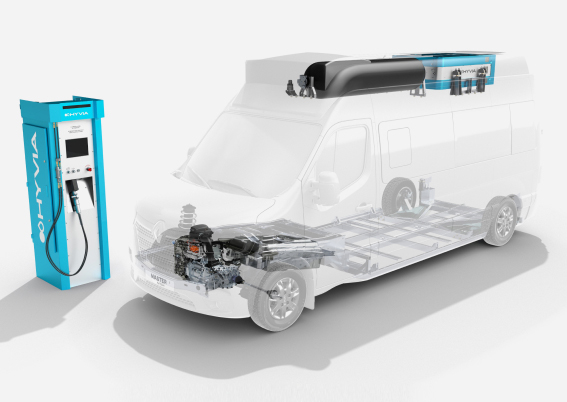 With a range that can reach of up to 300 km, the Renault Master City Bus H2-TECH" can carry up to 15 passengers (9 seated, 6 standing) with easy and safe access for people with reduced mobility (low, flat floor + PRM access ramp).

Manufactured in France and based on the Renault Master H2-TECH, the City Bus is a zero emission and quiet vehicle, coupling to an electric powerrtrain from the Renault's technology and a hydrogen system from the HYVIA's technology, both integrated by PVI.
The City Bus H2-TECH is equipped with a state of the art 30 kW fuel cell, a 33 kWh Li-Ion traction battery and a tank containing 4.5 kg of hydrogen at 350 bar. The total on-board energy capacity is 100 kWh.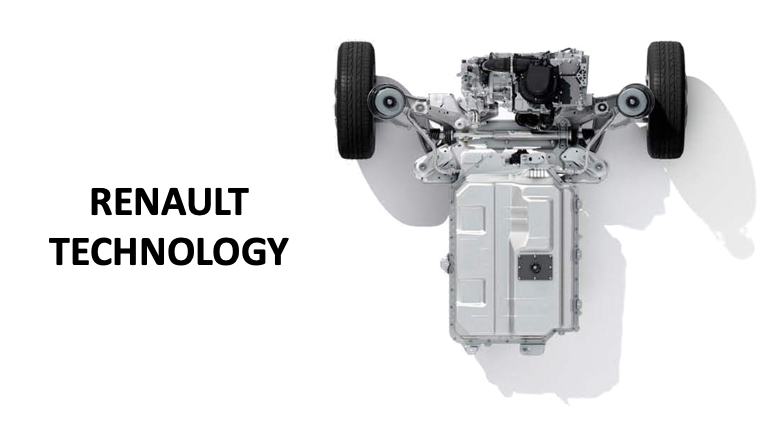 Refuelling time 5 minutes
Hydrogen technology from HYVIA
Electrical technology from Renault

15 passengers (with 10 seats)

Length : 6 meters
Width : 2 meters (without mirrors)

Renault PRO+ maintenance in Europe
"A la carte" funding including or not full maintenance contracts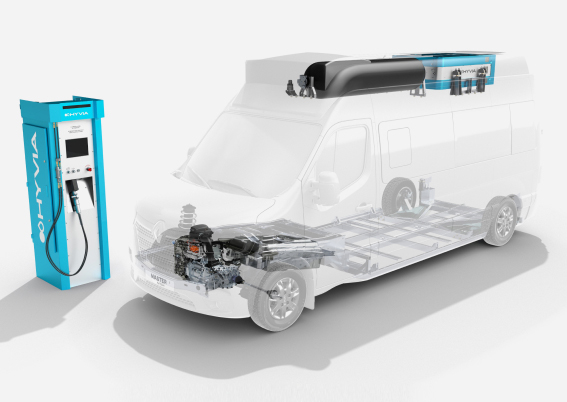 It is perfectly suited to the needs of companies, municipalities and local public services involved in urban passenger transport.
The CITYBUS H2-TECH is distributed throughout Europe via a network of distributors who also manage the maintenance of PVI buses through the Renault PRO+ network.
OVERALL TECHNICAL SPECIFICATIONS
DIMENSIONS
Basic chassis : Renault Master E-TECH electrified at PVI
External length 6225 mm
External width with/without external mirrors 2470 / 2070 mm
External height 2750 mm
Internal length for passengers 3530 mm
Internal width Front/between wheel arches 1880 / 1300 mm
Internal height Front/Rear 1900 / 1800 mm
Large windows (10 m2)
Floor height Front/Rear 250 / 350 mm (integral low floor)
Front overhang 869 mm
Rear overhang 1024 mm
Turning radius between kerbs 7,85 m
Turning radius 8,1 m
MASS
GVW 4500 kg
Front axle capacity (min/max) 1650 / 1850 kg

Rear axle capacity (min/max) 1500 / 2800 kg
Payload 1050 kg
PERFORMANCE
Range up to 300 kms
Maxi start-up gradient @ Empty/GVW 20%/15%
Max speed 70 km/h (electronic limitation)
H2 consumption : 2 KG H2/100 kms.
H2 refuelling time: 5 minutes.