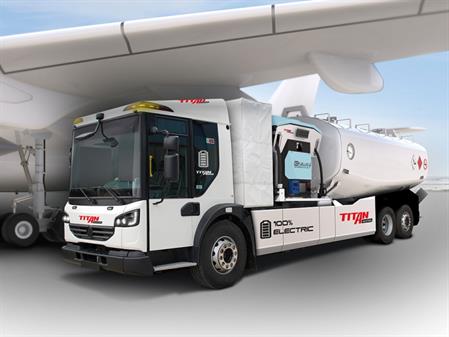 On April 13, 2021, the TITAN-eRR20, the world's first 100% electric refueler, will be commissioned at Le Bourget Airport where it will be operated by Total. A major innovation for the decarbonization of airport operations, this zero-emission refueler was designed and manufactured by Titan Aviation.

For Titan Aviation, the electrification of refueling solutions is an essential step in its commitment to reduce CO2 emissions at airports. With the introduction of the TITAN-eRR20, the family-owned company confirms its role as a leader in the sector and its desire to offer ever more innovative, safe and efficient solutions, supporting the aviation industry and the drive for a greener recovery.
PVI, a subsidiary of the Renault Group, supplies the electric chassis


The TITAN-eRR20 is designed on a PVI electric chassis, a subsidiary of the Renault Group, specifically adapted for refueling operations by Titan Aviation. Its electric refueling system can deliver more than 100,000 liters of kerosene or biofuel in a single charge, at a flow rate of 55 m3/h and its battery can be recharged in just five hours. The TITAN-eRR20 is also equipped with the EZ Control digital refueling interface, which guides the user through every step of the job, facilitating maintenance and optimizing operational safety.

''It is our role, as a French manufacturer in the aeronautical sector, to actively participate in the reduction of CO2 emissions in airports and to offer our customers concrete solutions. Innovation has always been part of our DNA, the electrification of our solutions was a logical next step, and we are not going to stop there.'' says Laurent Pourprix, managing director of Titan Aviation.
Watch our video
Source: AviationPros

Photo by Titan Aviation